Are you ready for the final reveal? So far I have shared the following choices:
In a world that is upside down, still, I have found myself reaching for fantasy books more and more. As a way to learn about our past and consider our future, the realm of fantasy allows us to escape, dig in, and dream of what can be. While the worlds may be unfamiliar, their messages are not and we can find comfort, hope, joy, even in the darkest parts of their stories. Our Global Read Aloud choices offer up hope in the most human way; tales of overcoming, tales of finding your own strength, tales or relying on community to come together in order to defeat a common enemy. It is what the world has shown us in the past year as well, it is what has kept many afloat, many alive. And so we shall gather around these books and continue to build community. We shall share these read alouds as way to connect across city lines, country borders, and oceans. We shall hopefully find similarities within the heroic journeys of the stories we read that let us see how we, too, can be heroes in our way.
WHAT IS INFORMATION YOU MAY WANT RIGHT NOW?
Kick off will be October 4th and the project will run for six weeks as usual, ending on November 12th. You can absolutely fall behind or start later, just don't read ahead.
The official hashtag for the year is #GRA21, all other hashtags have been announced with their book selection.
The hashtag for this book will be #GRAElatsoe
Because the book is longer you can still choose to do a full read aloud or do it as a book study where you read some parts aloud and others are read in other ways. If the book is too long for you to fit into 6 weeks, you can always stretch it into further weeks or choose The Barren Grounds – the middle school choice – which would also be a great read for the young adult category.
For a comprehensive FAQ post, go here
To join the main Facebook group, please go here. To join the young adult Facebook group, please go here. This is where news will be posted for the most part. Following me on Twitter may also give you information.
SO WHAT IS THIS YEAR'S YOUNG ADULT BOOK….
Elatsoe—Ellie for short—lives in an alternate contemporary America shaped by the ancestral magics and knowledge of its Indigenous and immigrant groups. She can raise the spirits of dead animals—most importantly, her ghost dog Kirby. When her beloved cousin dies, all signs point to a car crash, but his ghost tells her otherwise: He was murdered.
Who killed him and how did he die? With the help of her family, her best friend Jay, and the memory great, great, great, great, great, great grandmother, Elatsoe, must track down the killer and unravel the mystery of this creepy town and its dark past. But will the nefarious townsfolk and a mysterious Doctor stop her before she gets started?
A breathtaking debut novel featuring an asexual, Apache teen protagonist, Elatsoe combines mystery, horror, noir, ancestral knowledge, haunting illustrations, fantasy elements, and is one of the most-talked about debuts of the year.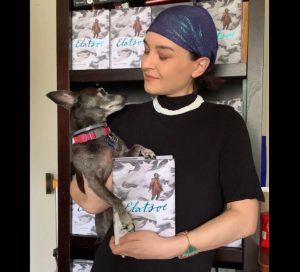 I first encountered Elatsoe after all of the accolades had been heaped on it and after reading it I get why the book world was abuzz with excitement for this book. It has quickly become one of my most recommended titles in my classroom and to other teachers. It combines some of my favorite components; a strong main character who is grounded within tradition and family, the supernatural that needs to be defeated, the strong ties to history and the invitation to conversation about how our past defines our present. I promise this read will not disappoint.
THE READING CALENDAR WILL BE AS FOLLOWS:
Week 1: Oct. 4th – 8th : Chapters 1 – 6
Week 2: Oct. 11th – 15th: Chapters 7 – 12
Week 3: Oct. 18 – 22nd: Chapters 13 – 18
Week 4: Oct. 25th – 29th: Chapters 19 – 24
Week 5: Nov. 1st – 5th: Chapters 25 -30
Week 6: Nov. 8th – 12th: Chapters 31 – end
Don't worry about falling behind, just don't read ahead and if you need to start later, please do.
Please consider following Darcie's work on social media and supporting your local independent bookstores with your book purchases. If you want to support the Global Read Aloud, please consider purchasing your books through the links placed here, the GRA gets a small affiliate percentage whenever books are purchased through Bookshop.org – a website that sends orders through local bookstores. If your school requires you to go through Amazon, please consider using this link to purchase the book in order to support the Global Read Aloud.
I hope you like these choices, and if not, that's okay too, then come back next year.